Archives by date
You are browsing the site archives by date.

Check out the new Raising Canada 2021 report, to which Joelle contributed. It can be found on the Children First Canada's website (hyperlinked to the report) and the social media toolkit associated with the report is available here.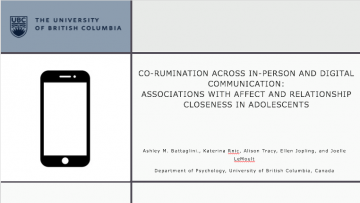 Congratulations to graduate student, Ashley Battaglini for presenting her talk titled, "Co-rumination Across In-person and Digital Communication: Associations with Affect and Relationship Closeness in Adolescents" at The Society for Affective Science (SAS) 8th Annual Conference!