Archives by date
You are browsing the site archives by date.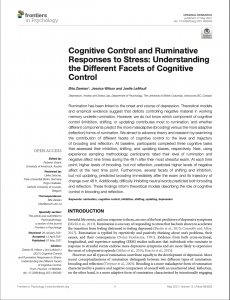 Congratulations to graduate student, Bita Zareian and her co-authors for publishing their paper titled, "Cognitive Control and Ruminative Responses to Stress: Understanding the Different Facets of Cognitive Control" in Frontiers in Psychology! Bita and her collaborators examined how different facets of cognitive control (i.e., inhibition, shifting, or updating) contributed to the level and trajectory of […]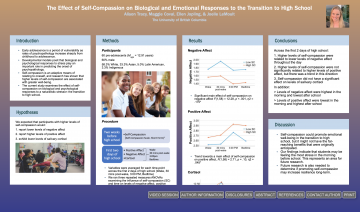 Congratulations to graduate student, Ali Tracy and her co-authors for presenting their poster titled "The Effect of Self-Compassion on Biological and Emotional Responses to the Transition to High School"at the Society for Research in Child Development 2021 Biennial Meeting! Click here to see the full poster.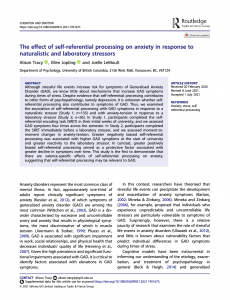 Congratulations to Graduate student, Ali Tracy and her co-authors who published a paper titled, "The effect of Self-Referential Processing on Anxiety in Response to Naturalistic and Laboratory Stressors" in Cognition and Emotion! Ali and her colleagues examined the association of self-referential processing with General Anxiety Disorder symptoms in response to a naturalistic stressor (Study 1) […]

Check out the new Raising Canada 2021 report, to which Joelle contributed. It can be found on the Children First Canada's website (hyperlinked to the report) and the social media toolkit associated with the report is available here.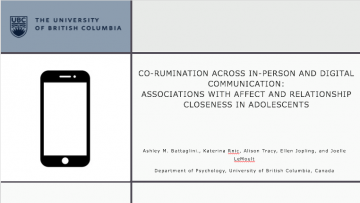 Congratulations to graduate student, Ashley Battaglini for presenting her talk titled, "Co-rumination Across In-person and Digital Communication: Associations with Affect and Relationship Closeness in Adolescents" at The Society for Affective Science (SAS) 8th Annual Conference!